Maryland Laser Tag- Are You Ready to Dominate the Arena?
Attention players of all ages! It's time to jump into the world of laser tag adventures! Grab your phaser and strap into your vest for some action-packed fun at Players! Our 3,000 sq ft indoor laser tag arena in Westminster, MD is your chance to show your friends and family that you have what it takes to come out on top whether you're from Owings Mills ,Eldersburg or Hanover, PA.
"Hidden gem for family fun especially in poor weather. This place is huge."
This is a great, local to Westminster, "Dave and Buster's" type family fun center. I would even say it's better, more family centered, and they have an indoor laser tag, glo golf, bounce house and bumper car area-definately worth a visit!
Loved the Batting cages and Laser tag!!!
Laser Tag- Get Your Adrenaline Flowing
Before the blitz, you'll need a few things. First, get an overview of the rules and your mission. Make sure to get a good look at your teammates and, of course, your opponents because it's going to be dark within the arena.
Next, it's time to get strapped into your vest and equip your phaser. Your vest is where you can be tagged, but it is also how you will tag your opponents, so make sure to aim for the vest!
Finally, it's time to get started, so buckle up and let's begin!
Try the heart-pounding excitement of battle
There's a big difference between sitting in your house with a controller and actually hiding around the corner to wait for your prey. Discover the heart-pounding excitement of battle when you enter the black-lit maze. You and your friends can fan out and take your positions in this multi-level course. Advance on the opposing team through multiple levels of space and make sure to take advantage of the sniper slots in the walls of the upper levels for sneak attacks!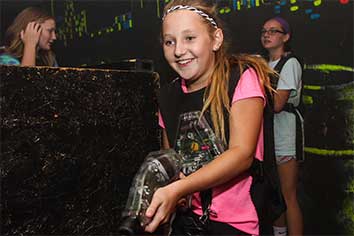 Show the World Your Skills
Players inside the laser tag arena can be viewed from the outside through our live feed. This is perfect for parents to see their kids achieve victory and for new players to start planning their attack. With our live feed, you can be the star of this action-packed adventure! Not only that, but your score will be displayed outside the laser tag area so that everyone will know who to watch.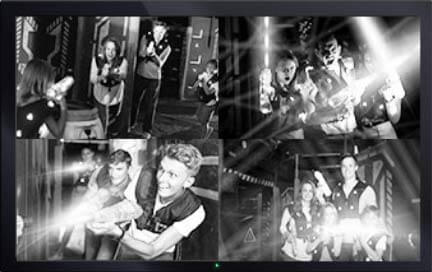 Laser Tag Birthday Party - It's game on!
For an amazing adrenaline rush invite your friends to a laser tag battle, at Players Fun Zone. Our birthday parties are action-packed and so easy with food and drink included. All your friends will want to copy your party for themselves. We offer birthday party packages for every age. Choose from: laser tag, arcade, mini glo golf, inflatables, bumper cars, and virtual reality.