A Fun and Unique Mini-Golf Experience at Players Fun Zone!
Our mini-golf course is designed with special effects to ensure that you and your family have a blast! Using special lighting, equipment, set design and paint, we have created a truly captivating glow-in-the-dark golfing experience that ensures you're having as much fun at Hole 18 as you are at Hole 1. Best of all, our course is built for all ages with just the right amount of balance between difficulty and fun right here in Westminster, MD, convenient to Owings Mills, Randallstown, Hampstead, Eldersburg, Md and Taneytown and Hanover, Pa.
Mini-Golf for Globe Trotters
You'll begin your trek through Ancient Egypt and continue through a glowing underwater seascape. Make your way to the next green and you'll be adventuring through the jungle before, finally, going back in time to discover the dinosaurs! Watch out for the Triceratops! Our indoor glo-golf offers a gorgeous black-lit backdrop for you and your kids to enjoy some mini golf.No matter your interest, our course has something for everyone!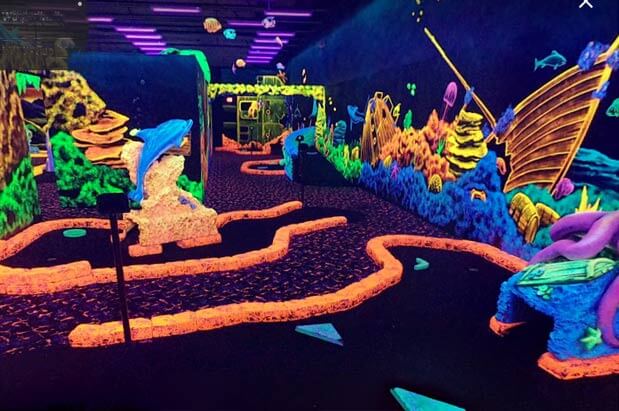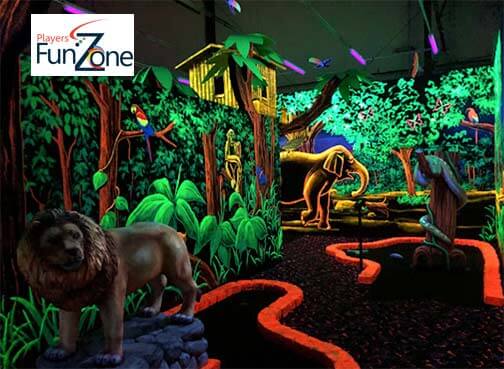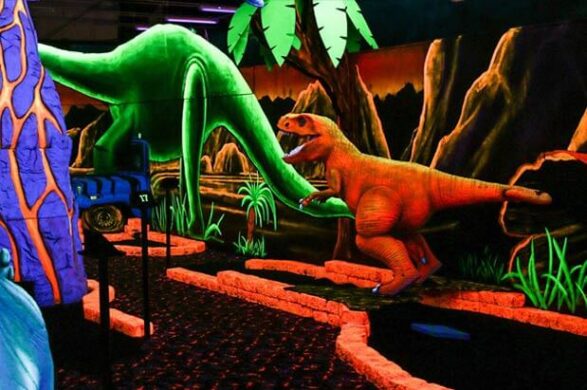 See a 360° View of Our Glo-Golf Course !
Choose the compass icon
below in the photo

for  360° view.